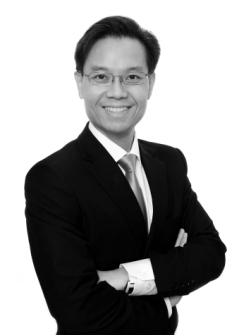 Department:
Litigation & Dispute Resolution
Contact:

+65 65574623

juliantay@leenlee.com.sg
TAY Julian
Julian Tay is a Senior Partner in the Litigation and Dispute Resolution department.
Julian graduated from the National University of Singapore in 1997. After graduation, Julian joined Lee & Lee. In May 1998, he was admitted to the Singapore bar. In January 2004, he was made a Partner.
Julian handles a broad spectrum of civil and criminal litigation. He has acted for major listed companies and prominent individuals. He has advised and acted for several leading local banks in commercial and consumer banking matters, including the enforcement of mortgages. He is on the panel of lawyers for the Medical Protection Society, and acts for members of the medical profession in professional liability disputes. He is also actively involved in a wide range of criminal matters.
Some of his recent cases include:
acting as co-counsel for a high net worth individual in his claim of S$1 billion against an international bank in respect of trading losses, which claim was amicably settled before discovery
acting as co-counsel in an ICC arbitration concerning a foreign power plant in which the claim is about US$20 million
acting as co-counsel in successfully defending a CEO of a stock broking firm against a claim for about RM98 million
acting as co-counsel in representing a listed company in a claim involving about US$15 million against another listed company facing creditors' claims in excess of US$600 million
acting as co-counsel in representing a listed company and its subsidiary in successfully implementing a Scheme of Arrangement involving creditors' claims totaling more than S$30 million
acting as co-counsel for a bank in a case of criminal breach of trust by an employee involving about US$6 million and taking urgent remedial actions to seize the employee's assets
acting as lead counsel in successfully defending an individual at trial and on an appeal to the Court of Appeal involving a claim on cheques in excess of S$500,000
acting as lead counsel in successfully defending an employer who was charged with assaulting his domestic maid
acting as lead counsel in successfully defending an individual who was charged with abetting a SATS officer in corruptly assisting Pakistanis to travel to the United States
acting for doctors in professional liability disputes, including complaints to the Singapore Medical Council and in coroner's inquiries
acting as co-counsel in successfully defending the importers of a Chinese Proprietary Medicine, Slim 10