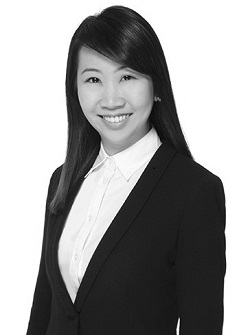 Department:
Litigation & Dispute Resolution
Contact:

+65 6557 4614

ameliaang@leenlee.com.sg
ANG Amelia
Amelia is a Partner with the firm's Litigation and Dispute Resolution department.
She graduated from the National University of Singapore in 2006 and was admitted to the Singapore Bar in 2007.
Amelia's particular interest and speciality lies in the practice of family law.  She regularly advises on pre and post nuptial agreements and has enjoyed success in resolving global and complex financial disputes in high net-asset cases, as well as cross-jurisdictional disputes such as child abduction.  She has acted in disputes over custody, care and control and access, as well as maintenance for both spouses and children.  She is also no stranger to cases involving family violence or harassment.
Her work in family law includes: –
Advising and representing clients in divorce disputes, negotiating settlement terms and advancing client's interests in mediation.
Advising and representing clients on financial aspects of a divorce [eg. case of Zhou Lijie v Wang Chengxiang [2015] SGHC 316], pursuing and resisting contentious interlocutory applications such as injunctions, discovery and interrogatories.
Advising and representing clients in emotional and sensitive disputes involving children [eg. cases of AGY v AGZ [2010] SGDC 156 and TBO v TBP [2014] SGDC 137].
Advising and drafting pre and post nuptial agreements, settlement agreements, deed of separation.
Other areas of general litigation which Amelia is also experienced in:
Advising and representing clients in disputes involving director's duties, fraud, misrepresentation, commission agreements.
Advising and representing clients in disputes relating to employment contracts, employee relations, confidentiality agreements and restraint of trade covenants.
Advising and representing clients in the enforcement of judgments through applications for garnishee orders, examination of judgment debtors, writ of seizure and sale, and bankruptcy proceedings.
Advising and representing corporations/individuals in defamation claims.
Advising and defending individuals in respect of prosecutions under the Penal Code, Passports Act, the Prevention of Corruption Act, the Misuse of Drugs Act as well as money laundering matters under the Corruption, Drug Trafficking Serious Crimes (Confiscation of Benefits) Act.
In addition, Amelia also advises medical practitioners and has acted as counsel in numerous High Court suits, coroner's inquiries and disciplinary proceedings before the Singapore Medical Council.